Socken aus Schafwolle, weinrot
Product properties
Our sheep wool socks are made of wool from Mongolian sheep. Due to the proportion of synthetic fiber and bamboo fiber the socks fit perfectly and adapt to the foot. Sheep wool keeps warm, is durable and can absorb up to 30% of its own weight in moisture.. Like all wool products, sheep's wool has a temperature-balancing and neutral odorless - so your feet feel comfortable at all times, even when you're out and about. The sizes of the socks are unisex and are based on footwear sizes.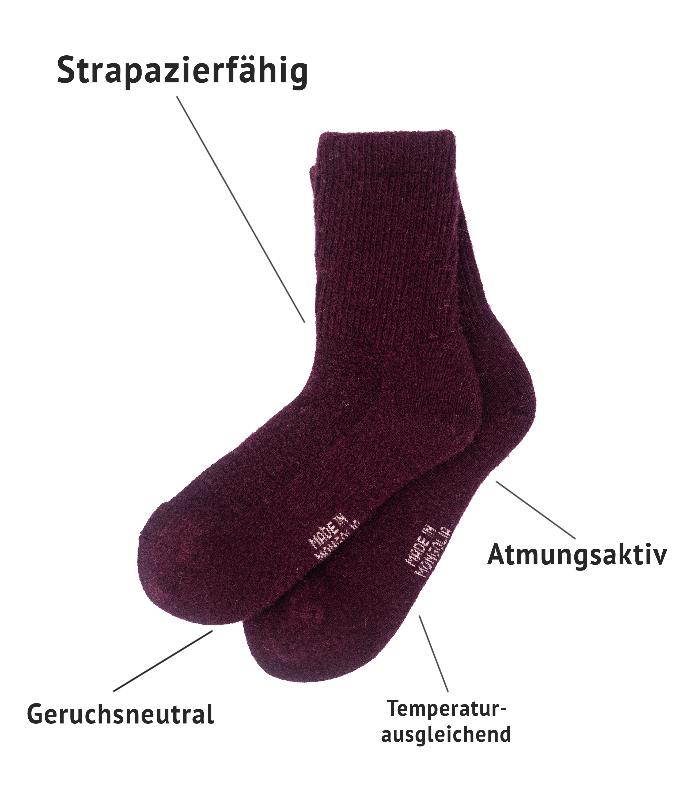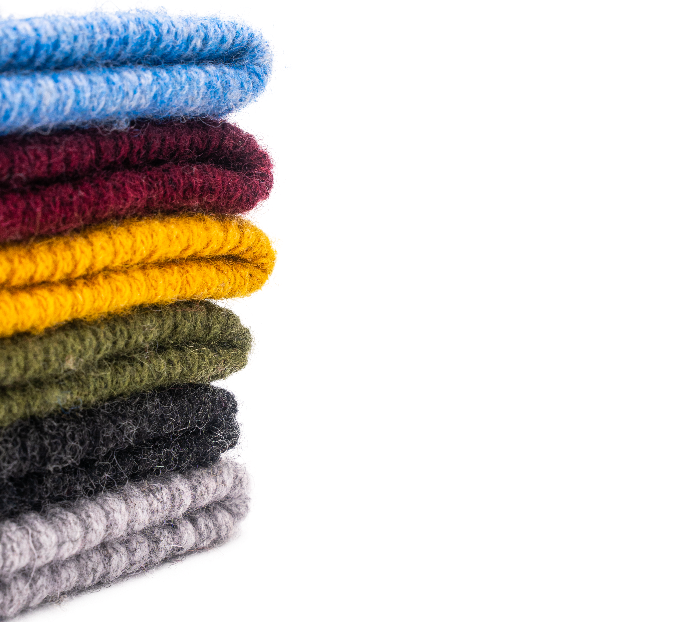 A colorful spectrum of colors

Our beautiful socks made of sheep wool are available in different bright colors, as well as in light gray or anthracite. In everyday life we wear them in sneakers with jeans or classically in boots.
---
Durability & Care

Our sheep wool socks are also recommended for for wearing in shoes. In this case, they benefit from good durability. If you are on the road for several days, you can simply air the socks in between and then put them on again. The nature of wool also means that that even sheep's wool will eventually wear through - so a durability like that of synthetic with synthetic fiber products can therefore not be guaranteed.
How many Mongolian sheep are there?

Sheep are everywhere in Mongolia, as they make up 60% of the livestock - which is almost 32.2 million animals. For Mongolian herders, the versatile animals are particularly useful. Their wool warm their feet, protect their yurts and feed the family all year round. But the traditional lifestyle is threatened by dry summers and harsh winters. More and more often, nomadic families move from the countryside to the city for financial reasons. Therefore, it is important to us that shepherds and producers can live from the sale of their wool.
When are sheep shorn?

In the winter time the thick wool coat protects the sheep from freezing to death. When the snow melts and the temperatures rise, they are sheared by their shepherds and their families. Their wool sorted by color and quality and sold to wool traders in early summer. verkauft. The sale of the wool is an important source of income and secures the survival during next winter.
How do sheep and nomads live?

Whoever is looking for a flock of sheep in the steppe sheep herd, first recognizes them as numerous black and white dots that appear on the horizon. A normal flock of one hundred to one thousand sheep and goats are released in the morning and spend the whole day searching for pasture grass in the vast steppe landscapes. Experienced shepherds can call their animals with a whistle and drive them back to the yurt in the evening.
Ihr dynamisches Snippet wird hier angezeigt ... Diese Meldung wird angezeigt, weil Sie weder einen Filter noch eine Vorlage zur Verwendung bereitgestellt haben.
Das könnte dir auch gefallen

Ihr Dynamic Snippet wird hier angezeigt... Diese Meldung wird angezeigt, weil Sie weder einen Filter noch eine Vorlage zur Verwendung bereitgestellt haben