Socken aus Yakwolle, dunkelbraun
Yakwolle - fein und besonders
Yak wool socks are our warmest, fluffiest and highest quality cozy socks to use at home. As the wool is spun from the fine underhair of yaks, the socks have a similar wearing comfort as cashmere. Yak wool stores body heat particularly well, has an odor-inhibiting effect and regulates the moisture of your feet. Our yak wool socks are made of 90% Mongolian yak wool and 10% synthetic fiber (spandex). The sizes of the socks are unisex and are based on the shoe sizes.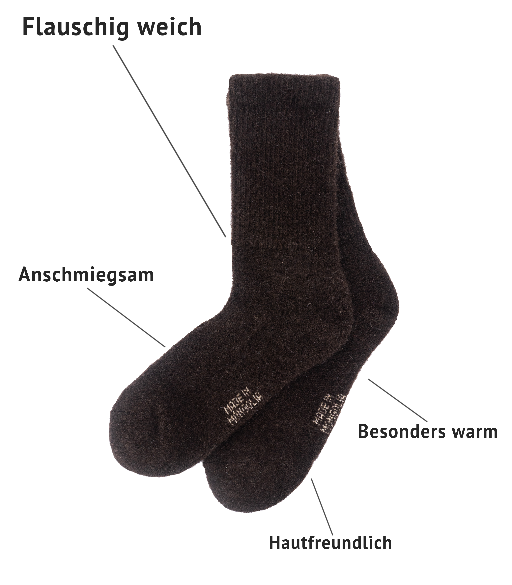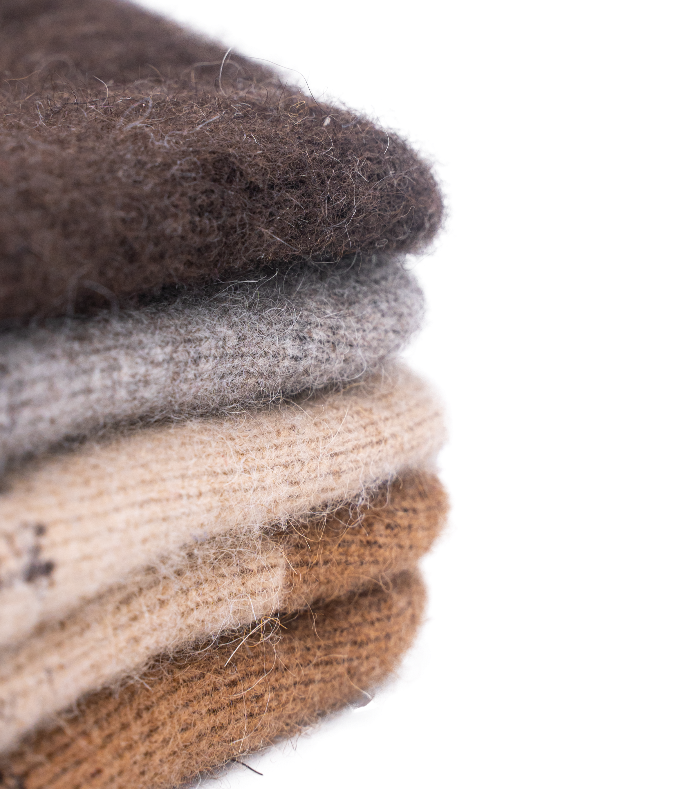 A natural color spectrum

Yak wool is difficult to dye. Therefore, yak wool products are available only in the beautiful natural colors of the yaks - light gray and dark brown.
---
Durability & Care

The finer the wool and the stronger the friction, the faster holes will appear. Yak wool is the finest of our wool types and therefore the most sensitive to friction. Our yak wool socks are designed with comfort and warm feet in mind. They should be worn primarily at home, preferably on the couch or as night socks. Wearing them in shoes will cause them to wear through quickly.
Yak wool socks are the perfect bed and sofa socks. If the socks are to be worn regularly in shoes, we recommend our Sheep wool socks.
How do yaks live in Mongolia?

Yaks love rocky plateaus and cold temperatures. With their dense shaggy body hair, they stay warm even in Mongolian winter temperatures as low as -40°C. Mongolia has about 1 million yaks in a total of 13 provinces. This gives Mongolia the second largest yak population in the world after China. Yaks are found in the mountainous areas of the Gobi Desert such as Bayankhongor, Zavkhan and Gobi-Altai provinces. The wild cattle were domesticated only about 3,000 years ago and to this day they can be very temperamental despite their laziness.
How do nomads and yaks live?

The grazing of animals play an important role in the life of the nomadic population - not only in Mongolia, but in all of Central Asia. Their fur, fat and meat are an essential source of livelihood and income for nomads. But most of all they are used as riding and pack animals. In the process, yaks shoulder the yurts, water tank or fuel for their nomadic herders across the vast Mongolian landscape.
Ihr dynamisches Snippet wird hier angezeigt ... Diese Meldung wird angezeigt, weil Sie weder einen Filter noch eine Vorlage zur Verwendung bereitgestellt haben.
Das könnte dir auch gefallen

Ihr Dynamic Snippet wird hier angezeigt... Diese Meldung wird angezeigt, weil Sie weder einen Filter noch eine Vorlage zur Verwendung bereitgestellt haben